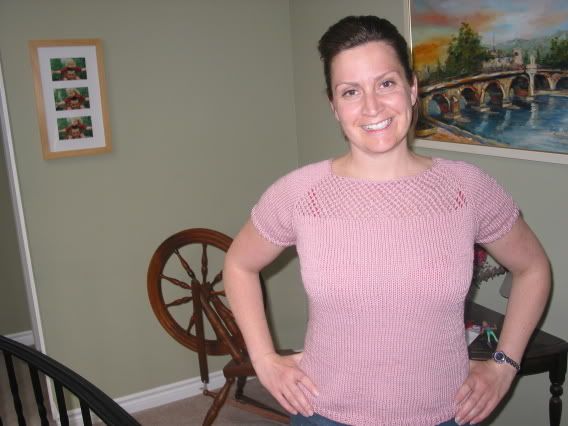 My finished Green, er Pink Gable. I used Cotton Fleece in Victorian Pink, size 36" and used a little under 3 balls. This pattern didn't offer much in the way of shaping, so I incorporated them. Once the increases for the yoke and 4" of straight rounds were done, I decreased 4 stitches every 8 rows, 3 times. Then I knit til the tee was 8.5" long, increased 4 stitches every 8 rounds 3 times, then knit the rib and bound off.
On the sleeves I knit 3 rounds, then the rib and bound off.
All in all, I think I am happy with the tee, but time will tell. If CF stretches throughout the day I am a goner because it is a tad loose on me, but if not, I think I'll end up wearing it a lot.
Lisa